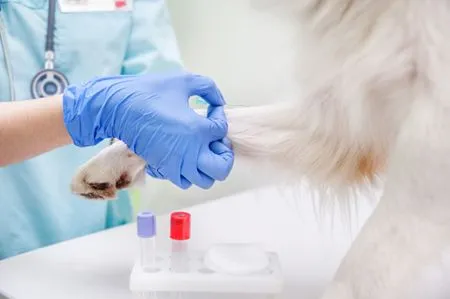 If you've ever visited the doctor for a routine check up or emergency visit, you know that one of the first things your doctor may do is take a blood sample or other form of testing for your diagnosis. This is know as diagnostics, and it can involve taking someone's blood, saliva, stool sample, or any other sample to take a measure of their health and find possible invaders such as bacterial and viral infections. Just like your doctor takes samples of your bloodwork and stool, a veterinarian can also take samples from your pet during pet diagnostics. Doing so canhelp your vet get a better picture of your pet's overall health, as well as aid them in discovering any medical illnesses that your pet might be undergoing at the moment.
At Aliso Beach Animal Clinic, we offer our own in house laboratory for pet diagnostics in Laguna Beach, CA. This means our pet owners usually don't have to wait hours or even days or weeks on end to get the results they need to help treat their pet. Our pet diagnostics lab can make it easy to find the right diagnosis and treatment for your pet.
Who Needs Pet Diagnostics?
Some pets that go to see a veterinarian need to get professional pet diagnostics done. This is sometimes the only way for a vet in our team to get a better understanding of your pet's current health, measure their glucose levels, vitamin and mineral levels, and much more.
Pet diagnostics can be useful for pets undergoing their regular physical exam every year, or for severely ill pets that need help and further treatment. A veterinarian on our veterinary team can help decide which types of bloodwork and pet diagnostics will be needed to help treat your pet effectively.
How Does A Veterinarian Help?
A veterinarian on our team can use the diagnostics to initiate further treatment. For instance, if pet diagnostics and blood work show that your pet has heartworm, a vet will then start heartworm treatment. This is just one example of the uses that pet diagnostics can have to help save your pet's life.
Get Pet Diagnostics and Bloodword Done at Our in House Laboratory
At Aliso Beach Animal Clinic, we offer our in house laboratory to our owners pets in Laguna Beach, CA, for bloodword and other testing. Call us at (949) 499-4190 to schedule an appointment.